SORRY HUBUD IS CLOSED DUE TO COVID-19 UNTIL FURTHER NOTICE.
Hubud is a coworking space and community that's leading the global movement of location independence in life + business. We're a dynamic bunch of business rebels, courageous creatives, techies + truth-seekers—and we're here to live a fulfilling life on our own terms.

Spearhead your dream business. Meet international thought-leaders. Join the global movement that's redefining the way we live, work and learn.

Touch-down in Bali with a plan + charming place to crash. Whether flying solo or corporate retreat, we'll help you set the foundation for a life-changing experience.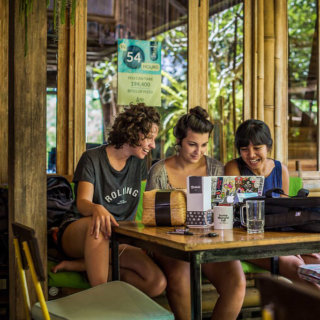 Hubud members combine social activism + entrepreneurship to create profound, positive growth in our own backyard. Come and join the social impact programs.
Hassle free landing package.

It's not too good to be true: you can come to Bali with the help of a supportive and welcoming team—affordably.
Every day, a new adventure. Here's what's happening at Hubud, right now:
Blog
Aspiring to become a successful entrepreneur: my experience at Hubud, Bali
Trying to become a successful entrepreneur? Just over two years ago Elliot walked through the door of Hubud Ccoworking having finished his job three days earlier. He had ambitions to create a business of his own – but, with just…
Read more
The media are buzzing about what our amazing members and unique space mean for work, learning and lifestyle futures.
Curious?
We'll send you all the juiciest news from our coworking world. Don't worry, we'll only send you the good stuff.